Climate actions and renewable energy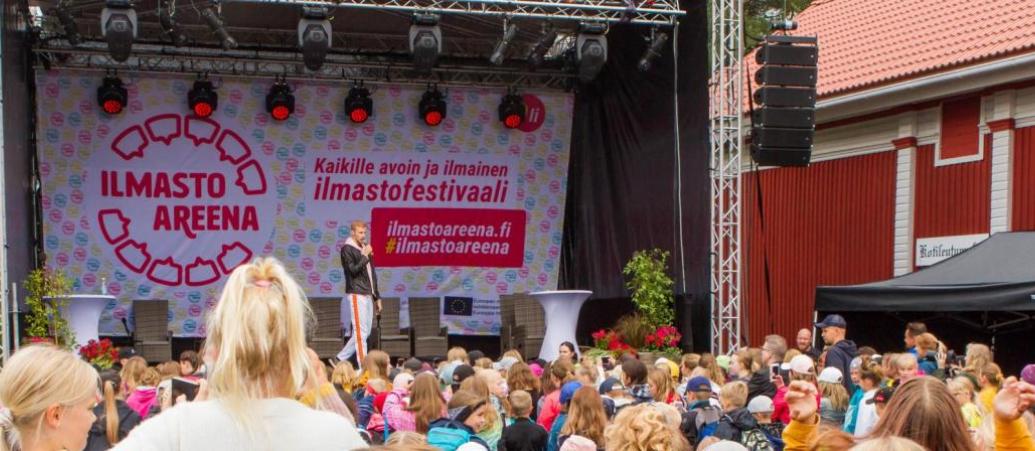 Awarded for the best climate action and Innovative Politics in Europe.
Ii's Innovative Low-Carbon Public Services won in 2017 the European Commission's RegioStars Awards category in Energy Union: climate change. Ii was especially appreciated for innovativeness and for engaging the citizens. Also in 2017 the Nordic Council of Ministers identified Ii as one of the best Bioeconomy cases in the Nordic Region.
In November 2019, Municipality of Ii won the Innovation in Politics Awards / Ecology for encouraging everyone to take climate actions. 
Ii the Europe's Greenest Town
How has a small place in northern Finland managed to become Europe's most eco-friendly town? Ii has slashed its CO2 emissions by 80% and is producing 10 times more renewable energy than it consumes.
See more videos about our climate actions: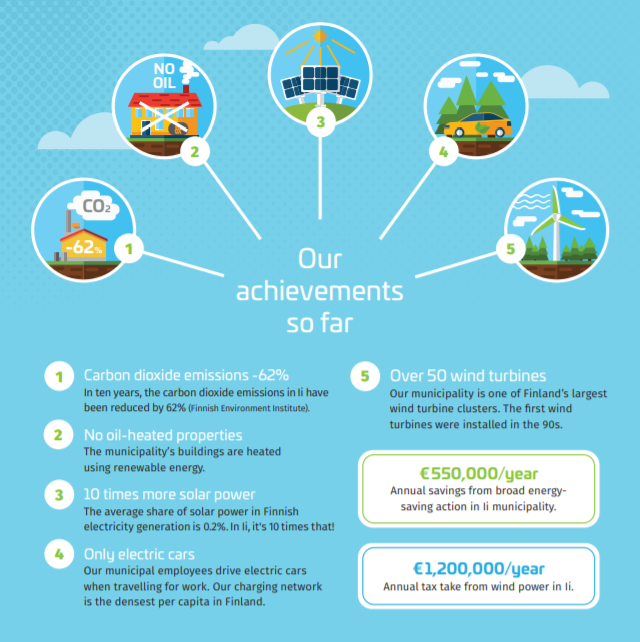 Significant results in reducing CO2 emissions
Our climate actions are listed in Resource Wisdom Roadmap and Circular Economy Roadmap. Our priorities for 2030 are: Waste management, Material reuse and shared economy.
All energy produced in Ii is renewable: hydro, geothermal and wind power as well as bio-based fuels. Ii produces ten times more renewable electricity (water, wind and solar power) than it uses annually. One of Finland's largest wind farms is located by the sea shores of Ii.
Municipality of Ii has set an ambitious goal to reduce 80 percent of carbon emissions by the year 2020, which is over 30 years faster than the EU climate target. Ii has managed to cut down oil consumption by 89% from 2010 level. Energy, heat and water data are collected in real-time from all public buildings. The emission reduction calculation is provided by the Finnish Environment Institute (SYKE). 
Cost savings of renewable energy and energy efficiency investments are more than 0,5 M€ per year and as the payback time has been around six years. Tax revenue income from wind power is 1M euros per year.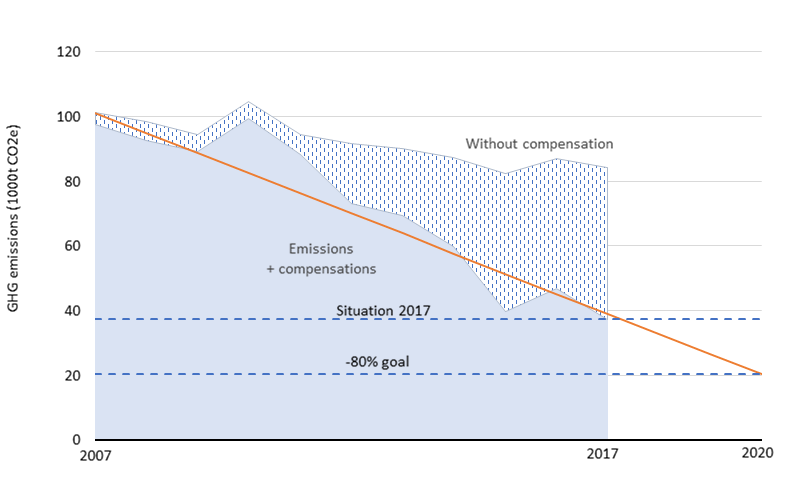 How to engage citizen?
Ii is part of Towards Carbon Neutral Municipalities (HINKU) -project that brings residents, experts and companies together to create and carry out solutions in reducing greenhouse gas emissions. Significant renewable energy implications are being activated in the area producing new business opportunities and competence to entire Northern Finland. Ii is also part of Finnish Sustainable Communities (FISU) and CircWaste network.
Climate Arena is the leading climate festival in Ii ,Finland which invites everybody to participate in a common dialogue to find solutions and tackle the climate change together. Artists, scientists, celebrities, political leaders, citizens and business all share the same stage to discuss about climate change. For two days in August the stages are filled with performances and panel discussions to engage the whole society and to have some festival fun.
Looking for innovative green partner?
Regional development company Micropolis ltd boosts green and sustainable growth in Northern Finland. Company's expertise covers environmental engineering and profitability calculations, service design, business incubatoring and enhancing circular economy solutions. Significant renewable energy implications are being activated with the assistance of EU funding programs producing new business opportunities and competence in the Arctic region.
With us innovative climate action ideas are easily tested, measured and piloted, especially in energy storage development, solar and bioenergy or sustainable transportation systems.
Please contact Micropolis ltd